July 22, 2013
We Need More Role Models, Robust Relationships & Raptures
Recently I have read several unrelated news reports and book reviews that underscore something that has been accelerating in the last few years in the fields of psychology, medicine, alcoholism, drug abuse and eating disorders: 
middle-aged women are hurting, and even dying, in record numbers.  Regardless of what you are talking about – happiness rates, admission to emergency rooms for drug overdoses, alcohol and eating disorder treatment statistics, or even suicides – women between the ages of 35 and 60 are leading the pack in terms of mental health and addiction problems.  Why?
Many experts in the fields of addiction and health have weighed in with their thoughts, but before we get too far, here are some of the troubling facts:
 A survey of 1800 women aged 50 and older from across the United States, published in the International Journal of Eating Disorders in 2012,  found that 8% report purging and 4% report binge eating.   Also, middle-aged women are streaming into eating disorder treatment centers in record numbers – a 42% increase over previous years among some centers.  
The Centers for Disease Control and Prevention (CDC) reported in May that the suicide rate for women rose more than 31 percent from 6.2 per 100,000 in 1999 to 8.1 in 2010, with rates increasing by age.  The largest increase was observed among women aged 60-64 years — a nearly 60% rise from 4.4 per 100,000 to 7.0 suicides per 100,000 people over that time span.
Middle-aged women are dying at an alarming rate from opioid and prescription pill abuse and the CDC says that it is an "epidemic" among this age group.  There has been a 415% increase in opioid-painkiller related deaths among women between 1999 and 2010.  Emergency room visits related to prescription opioid abuse "more than doubled" among women between 2004 and 2010, the study showed.

Middle-aged women are drinking at unprecedented rates now, leading to rising alcoholism and binge drinking figures.

A recent CDC study of binge drinking—having four or more drinks for women or five or more for men within two hours—revealed a surprising statistic. While the greatest number, 24%, of binge-drinking women are college-age, 10% of women between 45 and 64 said they binge drink—and so did 3% of women older than 65.  Between 1992 and 2007, women entering treatment programs between 45 and 54 rose from 9% to 27%.

"The Paradox of Declining Female Happiness" by Betsey Stevenson and Justin Wolfers reported several years ago that for the first time in history, men were happier than women at midlife, piggybacked by other research showing that women slide from happiness highs in their early twenties to their lowest point in their 40's, gradually rising afterwards – also known as the "U-Shaped Curve" research.
Why are we so unhappy?  Unhealthy?  Depressed?  And more important, what can we do about it?
I don't have firm answers, but I have my own observations, experiences and some research to share that might shine a light on why we may be trying to numb, alter and drown our perceived miseries, and what all of us can do differently – particularly what we women can do for other women – if we're going to change this scary trend and go in a different direction.
My recommendations fall into several broad categories: In short, I think we need more role models, robust relationships,  and rapturous activities on a regular basis.  I don't want to sound glib or trite about such serious issues, but at the same time, the following ideas are meant to just start a dialogue that could cut across many different areas of concern.
Role Models: Current middle-aged women came of age at a time when many of us didn't have full-time working mothers as role models, but our choices about what we could do had expanded so dramatically that it was tantamount to sacrilegious not to take advantage of them.  As a result, I had mixed messages at home about why my own mother sacrificed her journalistic career to have and raise children, a set of in-laws who were openly critical of my decision to work at all, and then a peer group that was highly educated, determined to put that education to good professional use, but unclear about how to make it all work together at the same time.  It seemed at times like I had to either choose full-time work with scant mom time, or the exact opposite, and neither one appealed to me.
Not only do we need to back off and stop judging ourselves and each other's decisions about how to "have it all," because we're all doing the best we can with the opportunities we have and the parenting we received, but we need to find role models who can mentor us into the lives we do want.  As a recent "New York Times" article pointed out, not all women want the corporate success described by Sheryl Sandburg in "Lean In;" they want success that is a mix of the personal and professional ingredients that matter to them, and not just plum assignments and travel that will lead to C-suite positions.
My own solution to my personal/professional dilemma ultimately came from finding a variety of role models, ranging from my godmother – who raised children while juggling a demanding and high-profile journalism career – to my own coach, who mentored me into a rewarding life of coaching, teaching, speaking and writing without sacrificing my motherhood roles, which mirrored much of what she'd also done as a divorced mom of two.
Kathy Korman Frey, founder of "The Hot Mommas Project," an award-winning women's leadership research venture housed at the George Washington University School of Business, Center for Entrepreneurial Excellence, has compiled the largest archive of case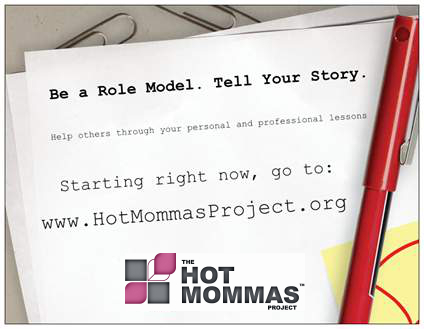 histories of successful women at the George Washington University Business School.  Frey's research has found that women's confidence explodes when they are familiar with stories of how other women have conquered problems and thrived – both personally and professionally.  In fact, new research has found that  just seeing a picture of a female political role model hanging on a wall had the impact of causing women to give significantly longer leadership speeches than women who had no such prime while they spoke!  
(Full disclosure: I just won the "Mentoring Award" in the Hot Mommas 2011-2013 competition, and my own case history talks about how I overcame my eating disorder and other hardships by relying on role models who gave me hope, and that I wanted to pass along that same hope with my newest book about how I reached several unbroken decades of recovery: "Positively Caroline.")
Robust Relationships: For over four years I've met monthly with a specially-selected group of women in a mastermind group that we call, "More Than a Book Club," because we want to get together to support each other in going after our own goals, but we don't want to have the excuse of a book to make it happen.  (It's interesting to note that in the "New York Times" article referenced above, the brainstorming about how to manage the competing demands of one's life occur at a monthly "book club," where the book is given a cursory glance, while the personal cheerleading takes most of the night.)  I can't count the number of breakthroughs I've realized as a result of these meetings, and my peers have said the same many times.
Research in my field of applied positive psychology has found that women who don't have at least three rewarding and reciprocal relationships with other women are actually hurting themselves.  In the seminal "Tend and Befriend" research from UCLA, it was found that women secrete oxytocin – the bonding hormone – when they care for each other and come together for mutual support.  More recent research has found that women benefit more if they go deep with a few selected friends, instead of wide with a vast crowd.
While some women are great at finding and nurturing the right friendships, which can help cushion and carry us through difficult times, most of us are surrounded by "frenemies" who don't have our best interests at heart, and whose words and presence can damage our health and happiness.  In one survey 84% of women admitted to having frenemies, and that they endured them because they didn't want to be seen as "not nice."
Not only are frenemies bad for our health and happiness, but we women aren't making it
easier for each other to succeed in the office.  "The Wall Street Journal" ran a provocative article in the spring about the "Queen Bee" at the office, and how many women feel threatened – which could partly be due to biological forces – by women coming up behind them who are younger, and possibly more talented.  One interesting statistic: A 2011 survey of 1,000 working women by the American Management Association found that 95% of them believed they were undermined by another woman at some point in their careers.  Not only that, women with female bosses report more physical and psychological stress symptoms than those who have male bosses.
Let's be honest about this last point: mean girls are never going to ever be completely out of our lives, regardless of our age.  I once thought that middle school, and even high school, was the end of this type of bullying.  To my surprise, I've experienced it as an adult in PTA settings, educational venues, and even on sports teams.  We're also undermined by people who aren't "mean girls," per se, so you have to be careful all the time while also being thoughtful about building the right network – and not necessarily being "nice" about who shouldn't make the cut.
Raptures  I think women are also struggling because they don't have enough of their own "raptures."  When we are passionate about our own goals, we are more likely to get into a state of "flow," plus we gain self-esteem as we go outside our comfort zones to achieve mastery over something that is important to us.
I can't count how many women friends and clients have told me that they have "lost" themselves as they've built careers, supported spouses and children in their own goal pursuits, cared for community causes and aging parents, and then had no energy to devote to themselves.  More than once I've asked a client, "What do you do for fun?" only to be met with bewildering silence.
Research has shown that when women are squeezed for time, they drop physical activity and friendship to the bottom of the priority list – two proven "happiness boosters" that can help ward off emptiness and lack of purpose.  They also have so little time during the day – less than an hour a day according to time use surveys – that getting traction in their own lives can feel overwhelming and hopeless.
Although I'm not a doctor or researcher, and the problems listed here have many deep-seated roots that can't be addressed easily, I still hope that my cohort of middle-aged
women can find fresh ways to celebrate life, surround themselves with hopeful and proactive friends, and have the courage to seek help from guides and role models when necessary.  Middle-aged women were once thought to suffer from "the problem that has no name," a phrase coined by Betty Friedan in "The Feminine Mystique," but fifty years later we now have names for our problems – bulimia, depression, alcoholism, etc – but the problems need 21st century solutions if we're still spinning our wheels, and they can't come quickly enough.
*************************************************************************************
"Positively Caroline: How I Beat Bulimia for Good and Found Real Happiness" (Cogent 2013) is the first book devoted to how to achieve and maintain long-term recovery from bulimia, throughout marriage, pregnancy, child-rearing and middle-age health and emotional shifts.  Click here to see behind-the-scenes pictures illustrating the story, as well as the reasons why I felt compelled to write this sequel to "My Name is Caroline" (Doubleday 1988), the first major autobiography about recovery from bulimia.